Day 42 Saturday July 17
Today after lunch I told Jim I needed to ride on toward El Paso, and that he could find a place to rest up, that we would split up here. He had been saying that he needed to stop riding and rest for a day or two.
Then I rode hard and fast to Ogden. Funny thing about the Utah Drivers - some of them get in the left lane and stay there! I guess they are going the speed limit and don't feel it necessary to move over and allow others to go faster.
I had 3 slices of German Bologna left over from yesterday lunch, so I bought a bread roll and fresh fruit and ate that for dinner. Yummy! And a welcome change from the restaurant stuff I've been eating.
I was out of clean socks and underwear, so I washed my clothes in the laundry area of the Motel Six in Ogden. That will get me back to El Paso with a change every day. Overnight at Ogden, Utah.
Day 43 Sunday July 18
Long ride from Ogden to Durango - south of Grand Junction, CO I started thru the mountains toward Durango. There are three mountain passes to cross and before the first pass it began to rain. It rained all the way from there to Durango and it became very dark. A miserable ride the last hour and a half. The face shield on my helmet fogged up and I opened it a crack, but then my spectacles fogged up also and my visibility was reduced to the point of being risky. There was no shoulder onto which I could pull over and stop, so I continued into the dark night until I saw a Gas station where I asked for directions to the nearest motel. I dripped a lot of water from my First Gear suit onto the floor of the restroom and while I was walking in and out.
I stopped at the first motel I came to and paid their price with no questions. I was embarrassed while signing for the room because I was dripping so much water from my First Gear jacket and pants - all over the floor and the counter. But, I was completely dry inside the First Gear. Overnight at Durango, Colorado
Day 44 Monday July 19
Rode hard and fast until around Truth Or Consequences, NM where an unmarked Highway Patrol car pulled me over for going 90 mph in a 70 mph zone. Luckily he gave me a warning after I promised to slow down, which I faithfully observed the rest of the way to Las Cruces.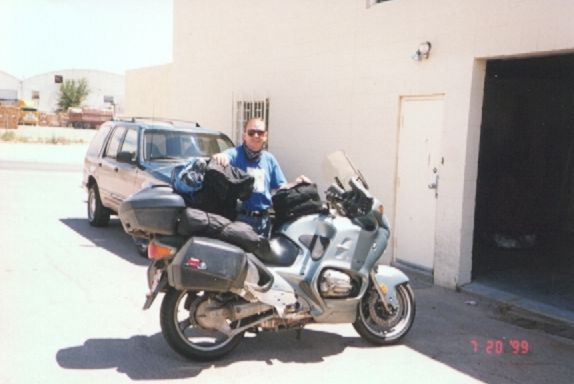 Back in El Paso after 6 weeks. Gee, it's good to be back home again.
Day 45 Tuesday July 20
Late AM I rode to El Paso to complete the trip - YAHOO!! YEEHAW!! 8,998 miles of riding since I left here on June 7th. Took me 10 days to totally unwind and relax.

EPILOGUE
Looking back, I've had many thoughts about various aspects of the trip. I felt compelled to write about the journey - both in terms of the physical movement and the people I met along the way, and the emotional experience. As with many human experiences, this 9,000 mile trek has many facets and perhaps that is reason enough to record how I viewed and experienced each day.
My life has been a series of adventures, but this one to Alaska was a major experience. Before it began I wondered if my World View would change dramatically as it did following my life's many transitions. I suspect that the trip was a Rite if Passage, but the full impact is not yet clear to me.
It's amazing how a new idea can change a person's life. Outside change is one thing - fate, new people, circumstance, and chance, can bring change, but my own ideas seem to be more powerful, as if propelled by a force from within me that is very strong.
A thought pops into my mind, then a conscious response of "- yeah, that sounds like fun!" I verbalize the nature of the idea to my friends and loved ones, and I may think more about it, search my memory bank for experiences I can relate to it, and do some research on the Internet, at the Library, etc., and I start to make plans.
The anticipation and preparation for the trip were very satisfying. Searching the Internet for and finding info on motorcycle touring and camping; scanning magazines for articles about Alaska or touring; searching Amazon.com for books, etc was fun.
On at least three occasions, during the ride to Bellingham, men (and one or two women) asked me about the Arctic Circle or Alaska and would remark, "I envy you," or "I wish I were going with you," or "I want to do that someday," etc. I think the Arctic Circle sign brought this response from people. Was that the lure of the frontier? I think so.
The companionship and camaraderie of my brother Jim was an important aspect of the trip. I don't think I would have ridden to Alaska alone, and I am happy that we could share an adventure like this, as brothers. Thanks, Jim.
This ride was undoubtedly one of the highlights of my life. I wanted to share it with my friends and relatives, and I do hope you now know me better as a person. If this journal brought us closer, by sharing this human experience, then it was worth the effort. Ride or drive safely.
Hal Foraker

[ Home ] [ Up ] [ Phase 1 ] [ Phase 2 ] [ Phase 3 ] [ Phase 4 ] [ Phase 5 ] [ Phase 6 ] [ Phase 7 ] [ Phase 8 ] [ Phase 9 ]