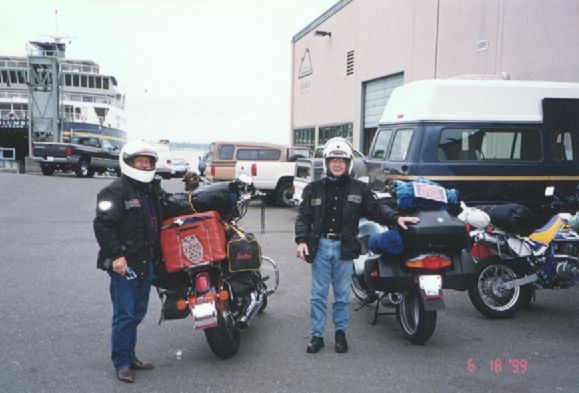 Jim and I waiting to board the Alaska Marine Highway ship.
Day

13 Friday June 18
In the final packing process I left the Milepost book in El Paso with all my notes about where fuel was available, possible motels on our route, etc. I bought another copy in Bellingham before boarding the Ferry.
Boarded the Ferry ship Columbia about 2:00 PM.
YIPPEE!! Weíre on the Alaska Marine Highway ship Columbia, underway to points north. Boy, was I excited about getting on and pitching the tent. Luckily I got upstairs early enough to secure a spot under an overhang, so the chances of getting wet are minimal. After putting our gear inside the tent, itís crowded (didnít put the rain cover on and that forms the vestibules.) Maybe we need to use the vestibules for storage. We had a bowl of chili for dinner in the Snack Bar and then took a nap. Lots of teenagers onboard and sometimes they are very loud.
Finished the first roll of film - 24 photos - this afternoon as the ship left the berth at the ferry terminal.
Put the rain cover on the tent after all - just for insurance (& the extra storage). Overnight onboard ship A.M.H. Columbia
Tent city on the stern of the ship.
Day 14 Saturday June 19 - Onboard the ferry ship A.M.H. Columbia
Wee Hours - My first night aboard has been less than ideal so far. With many noisy teenagers, thunking and clunking noises, people talking next to our tent, and the noise and vibration of the ships engines thru the deck plates, my sleep has been fitful and short intervals. Jim is in the tent right now and heís snoring peacefully. Ah well. I realized, just before getting up to go to the toilet, that I can let this get to me, or I can roll with it and enjoy the journey. So, here I am, writing about it in hopes of defusing any negativity that might be building in my mind.
We met 3 young German riders on new 600cc Twin Suzuki dirt bikes that are street legal and I have talked to them quite a bit. Helps to break up the monotony. They are from Stuttgart - all nice guys. One speaks English quite well and I talked to him awhile before we rode our bikes onto the ship.
Another traveler is ďMoeĒ Brooks from Houston. Heís riding a 600 cc Honda RX vertical twin dirt bike w/kick start and metal luggage made in Europe. He said he bought the luggage thru a Seattle company, then he designed the square steel tubing rack they mount on. The rack looks very strong.
Also, there is a Vulcan 1100, a Harley Dyna Wide Glide, a Honda Gold Wing, and another bike onboard. The Harley sure sounds good! I may have to buy one just for that sound.
Later (approx. 9:00 AM) - Finally got some sleep before breakfast, then ate a multi--grain cereal and half of a cinnamon roll at the Snack Bar. Went down to the main car deck when Jim checked on his dog, and I double-checked the tie-downs on the RT. No problems - itís a very smooth ride.
The people onboard are interesting. One woman that Jim met is named Vera Freitag and she lives on Mercer Island, WA with her husband. She is a dog lover and took to Jimís little dog right away. She invited us to visit her at their home. She gave Jim her address and phone number.
Right now the ship is cruising thru Queen Charlotte Sound and weíre feeling a gentle roll and swell from the open ocean. I like it but itís a contrast to the very smooth sailing weíve been experiencing.
I donít understand why I feel so empty of expression right now. I seem to be reporting events or facts, but not embellishing nor narrating. I want to expand about what is happening. but Iím not doing it.
Later - 4:30 PM - Just awoke from a short nap. Put on the long underwear as itís overcast and drizzly rain now. The tent has a distinct odor that I canít identify - of course I credit Jim with that. Heís storing food for his dog (fresh table scraps) etc., and I suspect thatís the source of the smell. Later, I discovered that he had the dogís sleeping bag inside the tent and it reeked! As soon as I put it outside the tent, the bad odor went away. The Walrus ARC/3 tent has a mesh screen at each end and both ends are open now. The tents that were not protected by overhang are soaked from rain and all the sleepers using unprotected sleeping bags are soaked also. They have all moved inside and itís much quieter now.
I talked more with the young men from Germany. They have a good sense of humor, especially Armin, the one who speaks English well. I invited them to El Paso for a BBQ dinner, but they wonít be coming near there. They end their trip in Los Angeles.
At lunch in the Snack Bar I shared a table with a woman named ďCherryĒ from Utah. She is a widow who returned to school at age 50 and became an LVN nurse (a lifelong ambition of hers) and is now going to Taylor, Alaska, a small fishing village south of Valdez. She is on a religious mission for one year. Nice person and she is fulfilling an urge to go somewhere and help others.
The cruise is boring except for the lectures, etc that are held occasionally - presented by the U.S. Forestry Service. I brought a book, but I have no desire to read.
Jim and I ate in the main dining room tonight - buffet style and pretty good, but too expensive for everyday. We eat our meals in the Snack Bar with the other campers.
The scenery is the same as we go along the Inside Passage, and itís getting boring, too. The timber grows down to the water and there are many small islands to navigate around. There are lots of small fishing boats and an occasional large yacht, but all of the boats must be pretty fast to get into safe waters quickly if a storm comes up suddenly. The islands and general shoreline do not look very hospitable for small boats and the wild animals, especially the bears, may be a problem in some places.
Day 15 Sunday June 20 - Happy Fatherís Day - Onboard AMH Columbia
Went ashore for breakfast in Ketchikan - walked about a mile - felt very good to stretch our legs, and Stinger liked being outside, too. It started to rain as soon as we returned to the terminal and it rained for more than an hour.
It rained all thru the night. A few small puddles of water on and under the tarp weíre using as a ground cloth, but the floor of the Walrus ARC/3 is waterproof. Thank goodness!
Moe, the retired NASA engineer we met, said his tent floor is soaked (didnít have a ground cloth) and the bottom part of his mattress is also soaked - but only the edges of the sleeping bag got wet. We are completely dry, thanks to some serious comparison shopping for a tent. The BMW Riderís website was invaluable as a source of advice about the camping gear. I would have preferred to have a British Khyam ďPop-UpĒ tent to save time and confusion, but the ARC/3 is good for two people, with both a vestibule for storage and an entrance at each end.
I attended a presentation about Eagles in the lounge, presented by the U.S. Forestry people who are permanently stationed onboard the Columbia. They give talks on a variety of topics to do with Alaska. I took a shower - felt good!
I ate lunch and talked to Ulrich, Armin, and Tibor, the Germans. I returned to the tent and opened both ends for ventilation.
Moe stopped by and we talked for quite awhile. Nice man. Donít know where Jim went. He was gone from the tent when I returned from showering. I missed the ďcar deck callĒ at 12:15 PM. Thatís when people can go to their vehicles and also visit their animals (all animals must stay on the car deck during the voyage).
Later - 11:45 PM - Loud voices woke me, then it happened again. I was so upset that I got up and came to the Snack Bar to write and maybe do some reading. Jim slept thru the voices, etc. When I came out of the tent, two chairs were placed next to our tent as if two people sat there and held a conversation - without much regard for the occupants of the tent, nor of other nearby tentís occupants.
Day 16 Monday June 21 - onboard AMH Columbia
Went ashore in Juneau and took a taxi ride to breakfast downtown (13 miles). We were back by 9:15 AM. The two taxi rides + food was over $50 - not a good idea, really, but we got off the ship for a while.
We packed up the tent, etc. after we got back onboard, then sat around the Snack Bar most of the day (until we reached Haines.)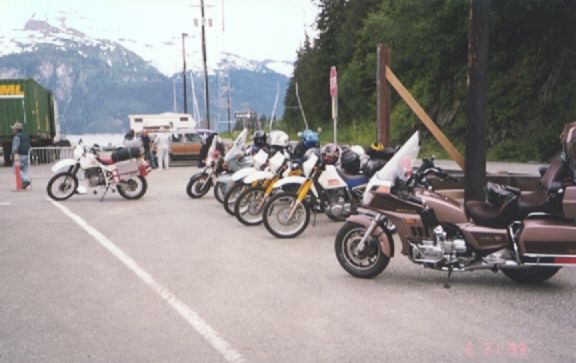 All the bikes from the ship lined up in Haines, Alaska.

Disembarking went smoothly. The motorcycle riders stopped for photos at the Welcome To Alaska sign. The group included Jim and I, the 3 Germans, the Gold Wing, and Moe from Houston. The Ferry Terminal is a few miles East of town and the short ride felt good.

Then we proceeded to the tourist information office in town to get directions to the Fort Seward Lodge. We checked in at the Lodge and now are settling into the rooms. Think Iíll take a nap before dinner.

We ate dinner at the Fort Seward Lodge Dining Room - fresh Dungeness Crab in the shell - it was delicious!! mmm mmm good.

Haines is a small town nestled between the trees and the water - a long narrow grouping of houses and businesses. The downtown area is one block long with one main intersection. All the necessities are here and cruise ships come often in the summer. Also there is daily ferry service and water taxi service from Haines to Skagway. The Alaska Marine Highway Ferry ships stop here 2-3 times a week. There is no direct road to Skagway - one must go there by water, air, or on the paved road via Haines Junction, Whitehorse, and Carcross in the Yukon Territory. The paved road stretches northwest to Haines Junction and that is our route from here. Overnight at Haines, Alaska

[ Home ] [ Up ] [ Phase 1 ] [ Phase 2 ] [ Phase 3 ] [ Phase 4 ] [ Phase 5 ] [ Phase 6 ] [ Phase 7 ] [ Phase 8 ] [ Phase 9 ]