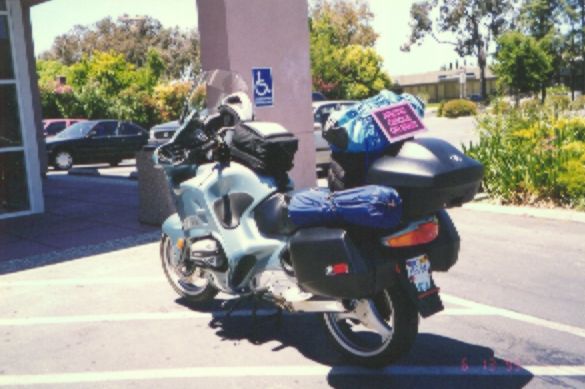 All packed up with the sign "Arctic Circle or Bust"
Da

y 1 Sunday June 6, 1999
June 6th PM I left Teramar for Las Cruces. I wanted to get an early start next morning from there. I was very excited and full of anticipation. Overnight at Las Cruces, N.M.
Day 2 Monday June 7
Beautiful day with the sun peeking over the Organ Mountains as I rode out of Las Cruces at 6:30 AM.
Fast run to Willcox, Arizona where I refueled. Traffic on I-10 was light and it was moving fast. Lots of wide open spaces here in the New Mexico desert. The elevation creeps up from El Paso (3400 ft) to the Continental Divide (4585 ft) - flat and mostly mesquite, sagebrush, and prairie grass with mountains in the distance to the north and south. Into Arizona I went through Texas Canyon where large rounded boulders sit next to and on top of each other - a welcome change of scenery. Then the terrain becomes rolling hills for a while.
Tucson to Gila Bend - lots of traffic w/trucks of all kinds loaded w/plastic tubing wound on giant reels; equipment of various kinds; tankers; box trailers; stone blocks for buildings on flatbed trailers; steel rebar; and other cargo including small trucks, 6-to-a-trailer. Many large and small RVís with most of them trailing a car or SUV. Ate lunch in Gila Bend and rode straight thru to Yuma, arriving 2:00 PM. YEEHAWW! Iím on my way! Overnight at Yuma, Arizona
Day 3 Tuesday June 8
Today is Jimís 67th Birthday - Happy Birthday, Jim. (Heís in Kansas).
Another beautiful morning. I waited until it was warm enough to ride without my jacket - I departed Yuma about 9 AM. Rode thru El Centro, Brawley, Salton City, Coachella, Indio, Indian Wells, Palm Springs, Banning, San Bernardino, Palmdale, Lancaster, Tehachapi, and into Bakersfield.
The constantly changing scenery was very interesting. From the mesquite, tumbleweeds, and sagebrush of the Eastern Calif. desert; to sand dunes of the Imperial Desert Recreation Area; to the Salton Sea 235 ft. below sea level, with rich farmland under irrigation nearby; to citrus groves, date palm groves, grape vineyards, alfalfa fields, etc. I saw big corporate farms around El Centro and Indio. The pass on I-8 had severe gusty winds today. I slowed down to be safe and still I was buffeted around. The winds continued to Bakersfield. I was weary and ready to get off the bike at 5:00 PM when I arrived at Motel Six. Overnight at Bakersfield, CA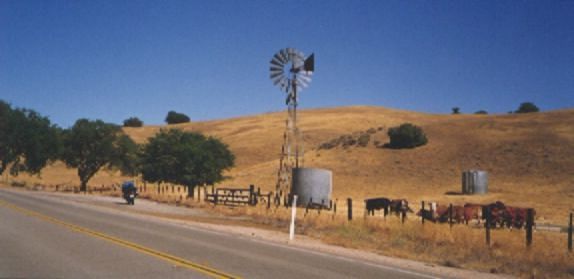 Beautiful California hills and oak trees
Day 4 Wednesday June 9
Whew! I came very close to running out of fuel on Hwy 58 from Bakersfield to Santa Margherita. I got to S.M. and there was no gas! So I went south 8 miles on Hwy 101 to San Luis Obispo. What a relief to have a full tank of fuel. I donít want to do that again!
The ride on Hwy 58 was ideal with lots of twisties and rolling hills, and a lovely sunshine day. I was reminded of the beautiful Calif. countryside that I have loved for decades - especially the oak trees dotting the hillsides with the golden grass background. I love to look at it! I took a photo of a windmill with cattle around it, then a few miles later saw another better setting but I didnít stop. I need to stop for these ďphoto-op momentsĒ or I may regret it (later). I stopped for lunch in a Mexican store in Gonzales (So. of Salinas) - had a delicious burrito, California style - filled with rice, beans, and meat. (canít get that in El Paso.) Then I rode on to Fremont, checked into Motel Six, and shared dinner with Fran Rushing, my first Professor at SJSU. I enjoyed catching up on life events with her.
Day 5 Thursday June 10 - overnight at Fremont/San Jose Motel Six
Day 6 Friday June 11 - overnight at Fremont/San Jose Motel Six
Day 7 Saturday June 12 - overnight at Fremont/San Jose Motel Six

[ Home ] [ Up ] [ Phase 1 ] [ Phase 2 ] [ Phase 3 ] [ Phase 4 ] [ Phase 5 ] [ Phase 6 ] [ Phase 7 ] [ Phase 8 ] [ Phase 9 ]