Day 8 Sunday June 13 - overnight at Fremont/San Jose Motel Six
Shopped for more stuff and bought waterproof matches and a whistle for emergency signaling.
10:30 AM I went to an AA meeting at Fremont Fellowship. My friend Elaine W. was the speaker. It was very nice to see her again and hear her message.
Checked out of the motel and down to San Jose for the Katie and Jeffís 2 PM party at Janetís house. Saw lots of Janetís relatives that I hadnít seen for years. I got to visit with Darlene, Janetís teacher chum; the Bonino family; Janetís brother, Roger, and his family; Katie and Jeff; and Jennie, Janetís mother. The food was excellent and it was a beautiful day to be outside. Iím glad I stayed over for the party.
Got onto my bike and rode north (154 miles) across the San Rafael bridge, thru Santa Rosa to Cloverdale and stayed overnight there. The sun was in my eyes so I stopped at the first opportunity after Santa Rosa and that was Cloverdale. Overnight at Cloverdale, CA
Day 9 Monday June 14
Arrived in Garberville mid-morning and got a room. Called Jeannie after lunch and rode over to Shelter Cove for the evening. The two lane road to Shelter Cove winds through the coastal mountains, alternating between the ridges and the valleys. A nice ride in daylight. Trees are everywhere between small farms and ranches, orchards, nurseries with hothouses, and a few villages. Jean cooked a nice dinner and I enjoyed the visit with her and Toby, her husband. The ride back to Garberville in the dark was treacherous! Next time Iíll stay overnight in Shelter Cove. I kept looking for Jim to show but he didnít, and he didn't call. He did call 1/2 hr after I left for Garberville (he was in Tacna.) I tried to call him from a pay phone but his line was busy, so I left a message via AT&T. I wonder if he got it? Overnight at Garberville, CA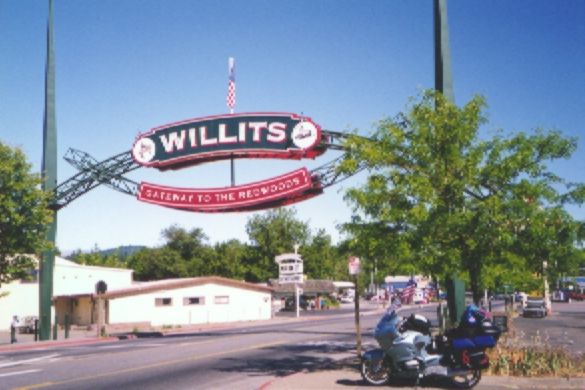 The California redwood trees are awesome!
Day 10 Tuesday June 15
I had promised Jean and Toby I would come back today, etc.
While I was packing the bike this morning, a motel guest from Utah came over to talk. He was a Honda Gold Wing rider but his wife had developed Diabetes and canít sit on the bike for long before her toes turn black. So, they canít ride together anymore. He said he is eyeing a new BMW K1200LT.
I rode back over to Shelter Cove for lunch with Jean and Toby. Great fish and chips! Then back to Garberville - left there at 1:30 PM and took Hwy 101 north, which winds around the hills - a beautiful scenic ride on a four-lane highway.
At a gas stop a man and his young son rode in (double) on a 1974 Gold Wing. We talked quite awhile. Two Harleys, riding double and pulling trailers drove in and remarked about the Arctic Circle sign on my bike. They were from Oklahoma City and headed for somewhere in Canada. At another stop, in Crescent City, CA, an Alaska Indian from somewhere near Nome, Alaska talked to me. I rode on to Coos Bay, and got a room. Overnight at Coos Bay, Oregon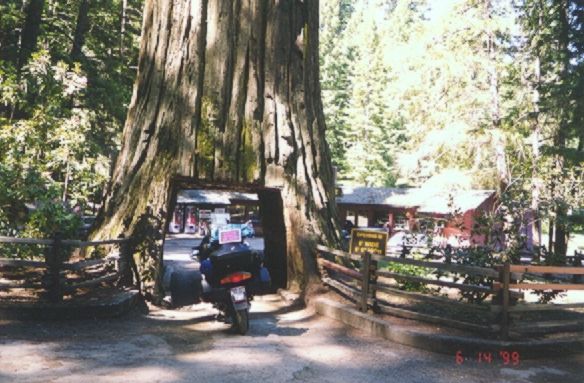 Riding through a giant redwood
Day 11 Wednesday June 16
Beautiful ride along the Oregon coast to Florence - past the sand dunes where I drove a dune buggy in 1991. I called the BMW dealer in Eugene and rode over there for an oil change. I bought two pair (one each for Jim and me) of warm weather Goretex waterproof gloves. I thought we might need them in the Alaska rain.
Rode on to Tumwater, Washington and got a room at Motel Six. Ate dinner at an excellent Japanese restaurant near the motel - I enjoyed the Yakisoba. Overnight at Tumwater, WA
Day 12 Thursday June 17
Short trip up thru Seattle where I stopped for an important motorcycle item - the Canyon Dancer rigging straps. I bought one each for Jimís bike and for my bike. (these came in handy on the ferry and in Alaska). Seattle is a nice place - it reminds me a bit of San Francisco because there are many neighborhoods that seem to be quaint and friendly. I might like to go for an extended visit someday (summer or fall).
Well, I made it to Bellingham! Whew! The last 50-60 miles from Seattle seemed very long miles. After registering for my room I ate lunch then rode down to the Alaska Ferry Terminal just to look around and to know where it is tomorrow.
Jim rolled in about 3:30 PM and came directly to Bay City Motor Inn (I had called Teramar to tell them where I was staying so Jim could get the info from them. - the Motel Six was full.) He brought his small dog, Stinger, a mix of Yorkshire Terrier and Spitz. The dog sits in a milk crate behind Jim on the motorcycle, and she seems perfectly content to be there.
We celebrated his arrival, his 67th birthday, and the eve of our adventure with a prime rib dinner at Black Angus restaurant. Excellent! It feels good to be here and to have Jim here and ready to board the ferry tomorrow. Overnight at Bellingham, Washington.

[ Home ] [ Up ] [ Phase 1 ] [ Phase 2 ] [ Phase 3 ] [ Phase 4 ] [ Phase 5 ] [ Phase 6 ] [ Phase 7 ] [ Phase 8 ] [ Phase 9 ]