Day 17 Tuesday June 22
Breakfast at 8:15 AM after we walked 2+ blocks to "town." Afterward, we found a One Hour Photo shop (that couldn't promise better than one day service) and I left two rolls of film. I'll try to pick them up at 6:00 PM today.
We enjoyed talking with an elderly lady named Joann who was the receptionist/cashier at the local museum. She's a retired (been retired 20 yrs) primary grade schoolteacher. Very nice person. Then we visited an Alaskan Native Art shop and talked with a native Chilkat artist, "Sue," who was displaying her Traditional Tlingit art form jewelry. Later I went back and bought a silver necklace pendant and chain - a sun symbol. I think I may wear it myself. The day was warm, some sun, and no rain - but rain is forecast for tonight/tomorrow.
Jim engages people in chit-chat everywhere he goes, so we spend lots of time in conversation. Most of the time it's fun. Picked up the two rolls of film - good job of developing, and about the same cost as in the "Lower 48."
Jim cooked his Green Chile Soup and it's really tasty! (we have kitchenette rooms) Enjoyed that. Tomorrow we head north thru Haines Junction and on to Tok. Later - sitting on a verandah that overlooks the small boat harbor, the cruise ship pier, and another smaller pier. A cruise ship was here yesterday evening, but it was gone this morning. Now, a small (100ft) ship is at the smaller pier - maybe it's the passenger ferry to Skagway. Above the water of the inlet, opposite where I am, are some magnificent mountains with traces of snow on their peaks. The trees are beautiful and it's very quiet here. An occasional car, pickup, or piece of equipment drives by, or a plane's engine is heard, but the scene is so tranquil - I am enjoying it very much.
Later - 6:00 PM - Another cruise ship arrived - the Royal Viking Line ship "Rhapsody Of The Seas." I watched it come into the dock - so graceful and efficient. Overnight at Haines, Alaska
Day 18 Wednesday June 23
Jim cooked breakfast of eggs and his Green Chile Soup w/toast. It was delicious and a nice change. Left Haines at 7:15 AM.
No problems until we came to 33 Mile Roadhouse (33 miles from Haines). Jim's Honda Shadow ACE 750 has a fuel tank capacity of 3.7 gals, and it can go max 150 miles (ideally) down to 100 miles if there is wind, high speed, or other special circumstances. Jim carried a 2-1/2 gal gas container in order to safely reach the next available fuel stop on long legs of the Alaska part of the ride. But, he had planned to fill his fuel container at 33 Mile, and the next available fuel was Haines Junction over 100 miles from 33 Mile Roadhouse. That meant that he did not have enough fuel to reach Haines Junction, and we found out that 33 Mile roadhouse no has fuel (until they get approval for new fuel tanks, etc.) Luckily, we were able to buy 2 gallons of emergency fuel and that got Jim to Haines Junction OK. The road is windy through trees, over rivers, and through construction zones of 2 - 6 miles. We average 50 mph on open stretches - the traffic is light and not too many RV's so far.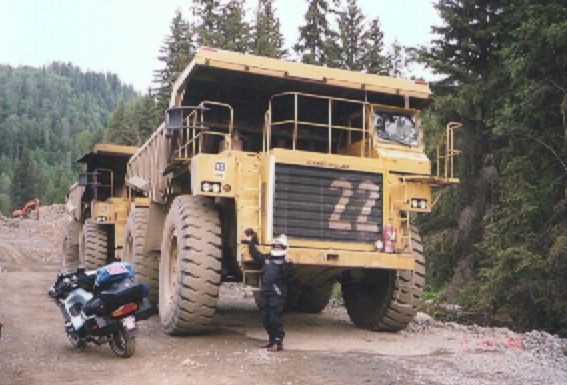 Now this is a BIG truck!
Long Day! (471 miles) Arrived in Tok at 9:10 PM in bright daylight. The days are getting longer as we move north. We navigated four stretches of torn-up road today, but luckily the rain was light and the road surface was not too slippery - nor did we have to deal with ruts. No real mud, just damp earth.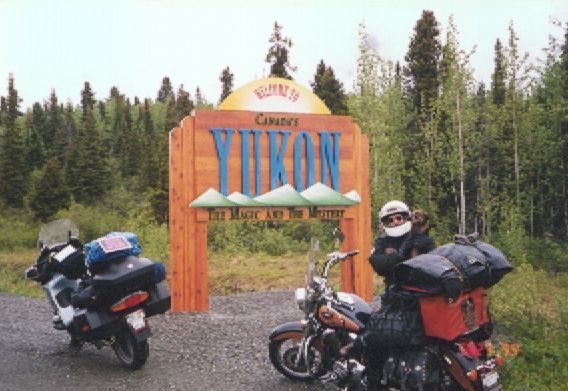 The Yukon Territory is one of the most sparsely populated places I have visited.

Both Jim and I were dead tired and went to bed immediately after eating hamburgers and fries, topped off with homemade pie. Overnight at Tok, Alaska
Day 19 Thursday June 24
Up at 9:15 AM and on the road by 10:30 AM. Only 205 miles to Fairbanks, so today will be a piece of cake. We lunched at the Dot Lake Lodge - very good food - the locals eat here. Stopped numerous times for rest stops, and at Delta Junction for a drink of water. Overnight at Tok, Alaska

[ Home ] [ Up ] [ Phase 1 ] [ Phase 2 ] [ Phase 3 ] [ Phase 4 ] [ Phase 5 ] [ Phase 6 ] [ Phase 7 ] [ Phase 8 ] [ Phase 9 ]